Writing is the great source of communication. Words always speak louder. But what, if your words are with tons of grammatical errors?
They will not be effective. This is a disappointing point. That you are writing and trying to convey a great message, but the sentence structures are wrong. Spellings are incorrect. Punctuations are not used properly.
These things ruin a piece of content. The school teacher will not give you good marks unless you write properly. Similarly, the readers will not be convinced by you, unless you write a perfect piece. The search engines won't rank you higher. This is an absolute point of sadness.
Okay, we have talked much about the negative effects of bad grammar; now, we'll discuss the solution of your grammar problems.
Overcome your writing problems
There are many methods available to solve your writing issues. Proofread your writing yourself, hire a proofreader or use an online tool to help you out.
If you proofread yourself, you will not be able to understand some critical grammar issues. You may not be able to correct the sentence structure.
If you hire a proofreader, it'll be too expensive for you. It's a good option, but it's hard to afford to hire a proof reader for every post.
The third option is to use an online tool to assist you. This is a good option. If you write with Microsoft word, you can correct your spelling mistakes and some of the errors it suggests. It's improving by the time, but still it cannot be called as a complete writing assistant. So, I recommend you to use
Grammarly
which is an online tool which assists you the best in your writing and grammar issues. Its free version provides you automatic solution while premium users can take help of a human proofreader to check their work.
I have no doubt to say that
Grammarly
is the best tool to correct your writing in every manner.
What is Grammarly
Grammarly is an online tool which helps you in writing without mistakes. Whether you are writing a blog post, school assignment, business document or email, Grammarly is for you. Its extension and app even allow you to write proper text messages, emails and web comments.
The thing I like the most is that it doesn't just correct your writing, it gives a detailed explanation of your mistakes, so you can avoid them in the future. With this, you improve gradually.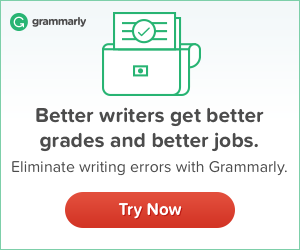 Some great features of Grammarly
Grammarly provides some outstanding features, let's take a look on them.
Secure and reliable:
Grammarly is trusted by over 15 million users around the world. That means it's very secure and reliable. 15 million people are relying on Grammarly to improve their writing including many bloggers and researchers.
The users of Grammarly are very happy to use it. Most of them claim that they have improved a lot after start using Grammarly. Infact, I also found it very helpful. If you want to learn and correct your grammar, this is the best tool for you.
Yes, if you are thinking about the security of your documents, then you don't need to be worried about it. Grammarly never shares your documents with anyone. Your work is secure.
Mistakes free writing:
This is the best and main feature of Grammarly. Grammarly exists for this. It helps you out in composing a mistakes free writing.
It corrects your spellings, punctuations, sentence structures and other writing errors. Premium Grammarly users get extra writing assistance. Grammarly helps them in correcting critical grammatical errors and provides detailed explanation of their mistakes. More than this, Grammarly suggests better expressive words. It helps with writing in different styles and tones.
Plagiarism checker:
Trust me, it's an awesome feature. When you write any paper or web page, you absolutely don't know if it is already available on the web. If it is available, it comes under plagiarism. Even unintentional plagiarism can blemish your hard work in minutes. Your paper can be rejected. Your web page can get a copyright infringement notice.
To avoid this painful aspect, you can use Grammarly's plagiarism checker which checks your writing in over 16 billion web pages and detects any plagiarism in your writing.
Try Grammarly. Write anything and check how it works. It's simple. Just
go to Grammarly.com
and sine up using email or google account.
Then, paste any document you have written previously and check the results. Within a minute, you will be able to correct your grammatical errors.
Conclusion
Writing has never been so easy. Grammar rules are really tough and it's not easy for everyone to learn and apply them. Today, you have many things to write almost every day and you simply want to write clean and mistakes free.
Grammarly is the best tool to help you out in your writing journey. The best part is, you learn what mistakes you are making which is very useful to make you more grammatically perfect. Learning and proofreading together.
Did you try Grammarly? What improvements you felt after using it?
See you in the comments.